ClearCorrect in Munno Para West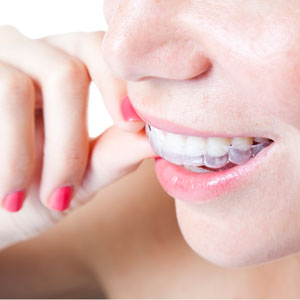 If you want a beautiful, straight smile but don't want the world to know you're wearing braces, then ClearCorrect may be right for you! Since 2006, these aligners have been used by thousands of people around the globe who desire a straighter smile without a hefty price tag. At Incredible Smiles, we love helping patients get an aligned smile discreetly with ClearCorrect.
Here are some of the primary advantages of this aligner system:
Undetectable
Thanks to the transparent aligners that the ClearCorrect system uses, you can straighten your teeth inconspicuously. You won't have to feel self-conscious about smiling with "train tracks" on.
Removable
While traditional braces use brackets and wires that can trap food particles, ClearCorrect aligners can be removed allowing you to enjoy your favourite foods. Keeping your teeth clean is also a snap because the aligners can be removed. You just need to make sure you wear the aligners for at least 22 hours per day to ensure the best results.
Customisable
One of the best features of ClearCorrect is that the system can be customised to meet your smile goals. For example, you may only want some of your teeth aligned. That's possible with ClearCorrect. Your dentist will assess your progress periodically and present you with a new set of aligners every few weeks.
Book an Evaluation Today!
To determine if you're an ideal candidate for ClearCorrect, you will have a consultation with one of our dentists. If we believe that this system is suitable for you, we will take photographs, X-rays and impressions of your teeth. A subscription then will be submitted to ClearCorrect, and your aligners will be crafted. You will be informed about all costs involved, so there are no surprises.
Are you ready to take that first step towards getting a straighter, photo-worthy smile? If yes, we invite you to contact our practice to schedule a same-day appointment. We're also open late, accept insurance and offer interest-free financing.

ClearCorrect Munno Para West | (08) 8288 9202