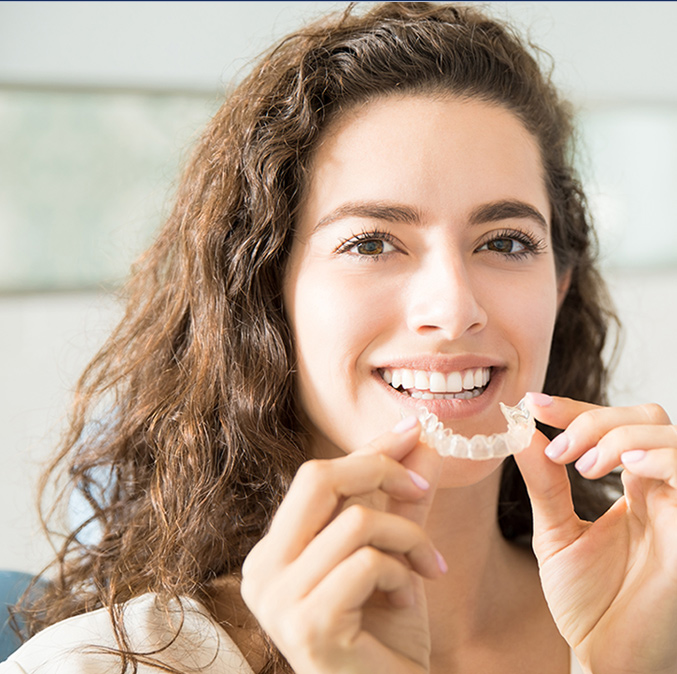 Imagine a new smile obtained comfortably with Invisalign clear braces. Invisalign is suitable to a wide variety of patients who wish to straighten their smile, including young adults and teens. Dr Mitesh is currently offering free Invisalign consultations to asses your individual suitability.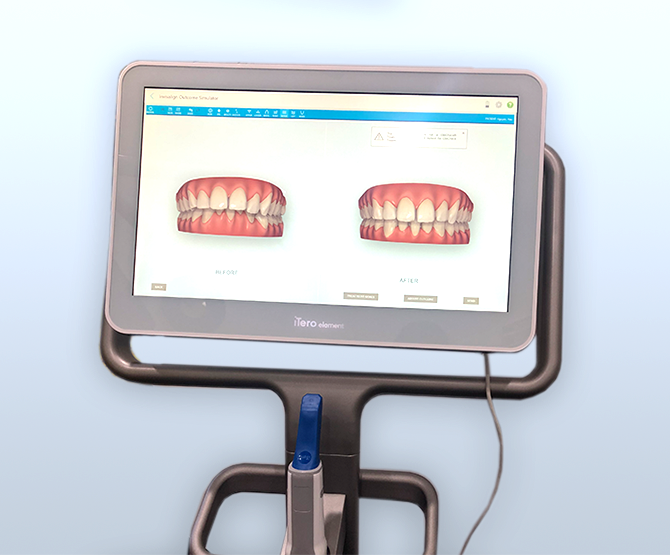 Advanced
iTero Scanner
Did you know that we now have an advanced iTero Scanner? This allows us to provide you with an instant smile simulation. See your future smile now!
Invisalign®
As a registered and trained Invisalign provider, Dentist Dr Mitesh Sanghavi is experienced in helping you get the smile you want with invisible aligners. The Incredible Smiles team offer this orthodontic solution as an alternative to traditional metal braces.
Aligners that are removable and made of plastic material will gradually shift your teeth into a straighter position. They are: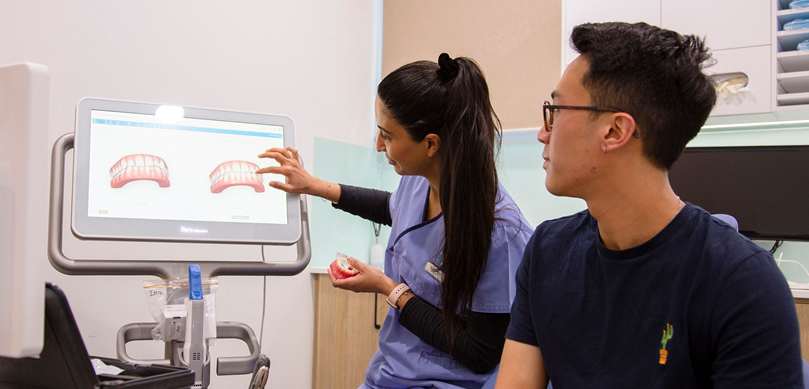 Clear
Comfortable
Customised
Removable
What Invisalign Can Correct
If you have overcrowded or widely spaced teeth, a crossbite or an overbite, Invisalign can correct mild to moderate cases, and we offer other orthodontics for those with more complex problems.
Invisalign
Free Consultation
Dr Mitesh Sanghavi is our dentist at Incredible Smiles Woodville who has a particular interest in adult orthodontics, particularly for Quick Straight Teeth and Invisalign. If you've been thinking about straightening your teeth, now is the time to book in a consulation with Dr Mitesh to asses your suitability.
We have payment plans, afterpay and zip pay available to allow the treatment to fit your lifestyle and budget. Book a free 20 minute consultation with Dr Mitesh Sanghavi today and find out which smile straightening solution is most appropriate for you!
All Costs
Discussed
Up Front
The expense of Invisalign is generally comparable to that of traditional braces. After assessing you, your dentist can give you all details of the cost based on your treatment needs. The usual price ranges from $6000 to $9000 depending on your case and any health fund coverage you may have. For those needing minor corrections, the cost can be as little as $4500.
Frequently Asked Questions
Using transparent, custom-crafted aligners, Invisalign is a highly popular and discreet alternative to conventional braces. You'll achieve a straighter smile with Invisalign by gradually moving your teeth into the desired position.
Worldwide, over 3 million people have used Invisalign to straighten their smile. Invisalign's comfort, coupled with the fact that it's practically invisible, contribute to the popularity of this clear aligner system.
The majority of people won't be able to tell you are wearing Invisalign. Another benefit is you can remove the aligners before meals so can enjoy your favourite foods. You also can take them out to brush your teeth or to attend a special occasion such as a wedding or graduation.
Utilising modern 3D technology, we will take a digital scan with the advanced Itero Scanner. Thanks to the technology, we can provide you with a simulation of what your smile will look like. Then we can craft an individualised treatment plan. Customised aligners will be fabricated for each phase. All you need to do is change your aligners every one to two weeks to help your teeth gradually shift.
Just as each patient is different, so is Invisalign treatment. On average, it takes 12-14 months for treatment but it can range from six months to two years.
No, there's no pain involved in wearing Invisalign aligners. Overall, the treatment is comfortable. Most patients report a feeling of pressure and minor discomfort at the start of each new treatment stage.
The aligners are fabricated from medical-grade, non-toxic plastic. Virtually invisible, they have a smooth appearance.
It may take a bit of time to get used to your aligners. In particular, you might notice a slight lisp for a day or two, but it will pass quickly. The lisp is due to your tongue getting used to having the aligners in your mouth.
Once your treatment has begun, you will need to schedule regular appointments with your dentist. Typically, these visits occur every 4-8 weeks. The reason why you will need to visit us is to make sure that your Invisalign treatment is progressing as we planned. You also need to keep up your routine exams and hygiene appointments.
In the majority of cases, teens 14 and older are eligible for Invisalign. The main requirement is that their 2nd molars have erupted completely.
The cost of Invisalign is similar to conventional braces. Because we believe in transparency, you will know the complete cost of your treatment when you come in for a consultation. We will base the cost on your unique needs. There are some factors that will determine the overall cost of your care. These include the length of treatment, the complexity of your case and treatment goals.
If your insurance policy covers orthodontics, it's likely that your Invisalign treatment will be covered. We encourage you to check your policy and ask your provider for more information to be sure.
Payment Calculator
Did you know you can pay for your treatment with a payment plan? Use our calculator to discover how affordable your Invisalign treatment could be!
Invisalign Assessment Tool
What are your concerns with your current smile?
READY FOR YOUR BEST SMILE?
Contact us today to schedule your evaluation for Invisalign in Woodville! Convenient Saturday appointment times are available.
---
Invisalign Munno Para West | (08) 8288 9202