Sports Mouth Guards Munno Para West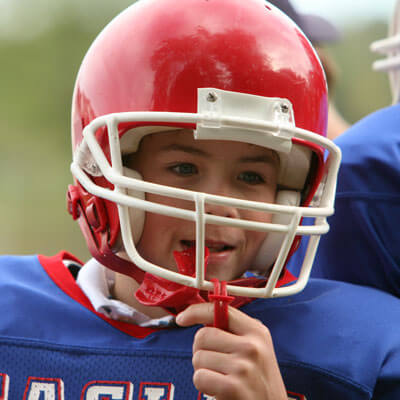 Are you or your child involved in sport? The dentists at Incredible Smiles offer custom sports mouth guards to help protect your smile, reduce the risk of injuries and prevent dental emergencies.
Who Needs to Wear One?
Every child or adult who is active in athletic activities, such as footie, lacrosse, martial arts or pastimes where facial injuries are common should wear a mouth guard. The appliance should be worn during games as well as training activities. Sports mouth guards help prevent facial lacerations, knocked-out teeth, bleeding and jaw injuries. They may also help safeguard against concussions.
Professional vs Boil-and-Bite
A custom mouth guard offers the highest level of protection since it is specifically moulded to your mouth. This fit helps hold it in place when you need it the most, reducing the chances of it coming loose or falling out during athletic events. Adults can wear their custom devices for several years, while children should have a new one made annually to grow with their smile. However, children who wear braces usually don't qualify for a custom mouth guard because their teeth are consistently moved from month to month. In those instances, purchasing a looser over-the-counter stock guard works best.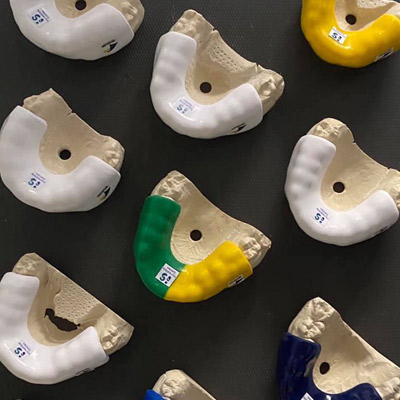 Customised to Fit Your Lifestyle
Each of our custom sports mouth guards is made with your name and phone number if they're misplaced. You can select from many colours to have yours match your sporting team jerseys.
How to Get One Made
We'll book you in for a short 20-minute appointment to have a mould taken of your teeth. In a week, your custom appliance will be ready to wear.
Maintenance
Acrylic mouth guards need to be stored in their case, out of the reach of pets, small children and hot cars. Clean your appliance with lukewarm water, antibacterial hand soap, and a toothbrush as needed.
Get Yours Today
Contact our office to reserve an appointment for yourself or your child.
CONTACT US
Mouthguard Sponsorship Program
Incredible Smiles is proud to partner with local community sports teams through our in-house mouthguard sponsorship program! This program provides players at your club the chance to receive a professionally fitted, custom-made, high-quality mouthguard at a heavily discounted rate. Mouthguard are extremely important when participating in sports of all levels, from children to adults and everyone in between. Mouthguards help to prevent further trauma during collisions, falls, and blows to the face during a game, not to mention, can save your smile from costly damage. Sports programs of all levels are invited to apply to join our program—to do so, simply email marketing@incrediblesmiles.com.au.

Sports Mouth Guards Playford City, Munno Para West SA | (08) 8288 9202