Dr Victoria Yap (Dentist)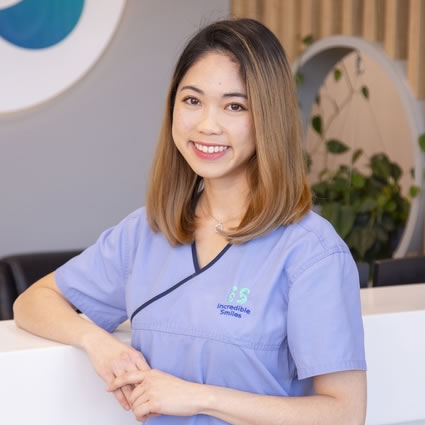 For Dr Victoria, the most fulfilling part of her job is using her expertise to help patients overcome their fear of coming to the dentist. "I also find it fulfilling to see their mouth being transformed and see them go from being too self-conscious to smile to being able to smile confidently." Dr Victoria provides holistic and aesthetic treatments to patients.
Education and Professional Development
To prepare for her role as a dentist, Dr Victoria earned a Bachelor of Dental Surgery from the University of Adelaide. She graduated in December 2016. Dr Victoria stays abreast of the latest in the field by taking continuing education courses. To date, she has taken ones involving oral surgery and aesthetic anterior composite restorations. She also has taken courses on Quick Straight Teeth™ and Invisalign®.
Outside the Practice
When she's not working, Dr Victoria enjoys travelling and finding good food with her husband. A fun fact about Dr Victoria: she worked in rural WA for about 10 months before returning to Adelaide to work.

Dentist Munno Para West – (08) 8288 9202